Request More Info
The Beautiful Korean Island, Dokdo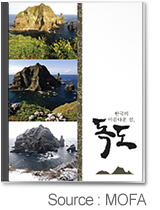 This PDF includes the Government's Basic Stance, Geographical and Historical Evidence proving Dokdo is Korean Territory, and Q&As on Dokdo.
This PDF is downloadable in eight different languages by clicking the language of your choice.

Make an E-mail Request
Select resources of your choice to be delivered to your inbox.